And today we're kicking this Blogging A to Z Challenge off with a nice little rant.
Of course I could've picked "April Fools" instead but that's kind of cliché now isn't it?
Instead, the topic for today are those who call themselves "alpha males", though we may know them better as pickup artists or "naturals".
I just can't stand them. They're all that's wrong with the male gender. (Okay, maybe not all, but they sure encompass a lot of it!) They see women as disposable objects of lust and pleasure, their feelings as a game, and getting them in bed as the goal.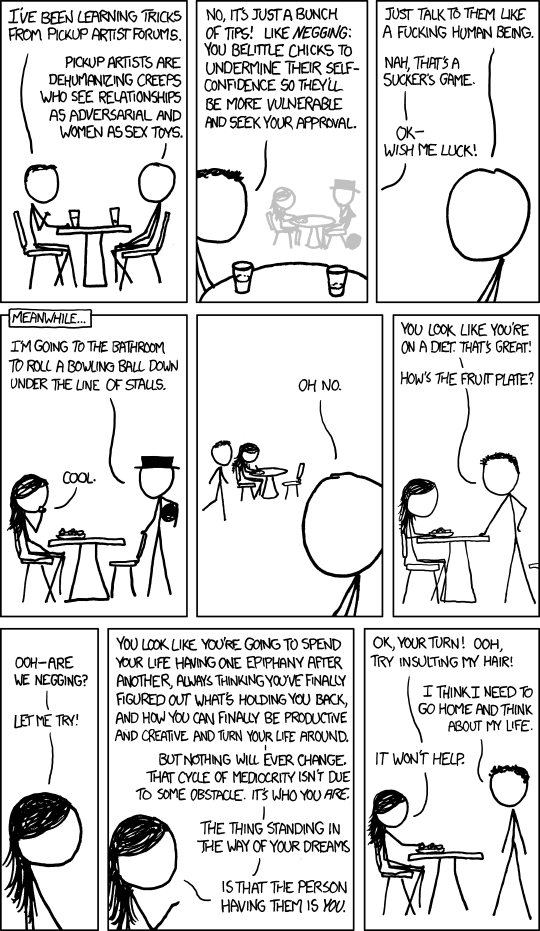 Just, for fucks sake, COME ON! Whatever the fuck happened to chivalry, monogamy, and people not always "hunting for chicks" all the time? Besides, if a women would be like that she'd be called a "slut" right away.
ANALOGY TIME:
A lock that gets opened by many keys is a shitty lock,
But a key that opens many locks is a master key.
Sure, it's correct for the lock-and-key thing, but humans shouldn't be like that! Seems like we're still dabbling in blatant sexism where the woman ranks lower than the man. The fuck, world? We should've moved past that aeons ago!
I guess the reason such guys are so successful is because women actually fall for it. They date the polygamous dickheads, get dumped or find out he's been doing the same with countless of other girls, and then start crying that all males are douchebags and never nice to women.
Hi nice to meet you, I'm RIGHT HERE.
To the guys who're reading this: it may seem awesome and cool, "scoring chicks" left and right, but it makes you no better a person than who you are right now. Don't aim to be an "alpha male". Or actually, feel free to do so, but just be nice to the women, treat them with respect, and don't toy with 'em. (I'd make a powerful forces joke, but women really aren't something to be playing with.)
Before anyone comes and beats me up, I should say that you should insert "most" everywhere right in front of any words referring to our subjects. I'm sure not all of them are like that, right? Right?
~ Fang